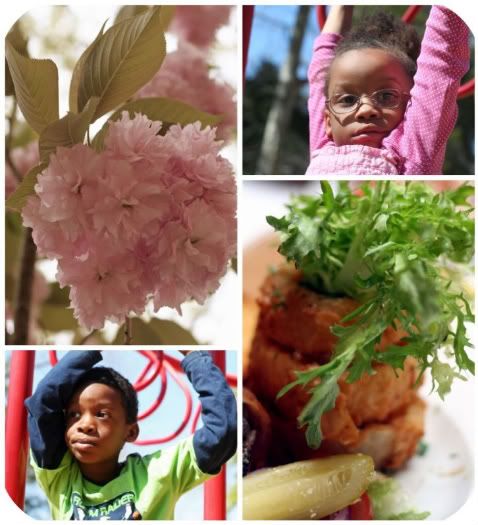 weekend recap in pictures mostly:
-Park play, these two love being outside and it is also a good time for mommy to take some photos. I don't think they were feeling the lens,lol.
-I went to the hill yesterday for lunch with a dear friend. We ate at Matchbox, if you are ever in DC you must try this local favorite. It is awesome and on Sundays they have a live jazz band at the Capitol Hill location which makes it even better!
They cook their pizza in a brick oven and are known for their 3-6-9 sliders! I had the bistro burger which is what the pic is of sorta, I was more fascinated with the tree growing out of my onion rings! lol The burger was delish, hello gorgonzola cheese!!!

-I also went out Saturday night but without the camera, it was so nice! :) More live music, jazz, go go and dancing.... some research for an upcoming feature, can't wait to share!
-Watched Grey Gardens with my sister, I loved it! I thought Jessica Lang and Drew Barrymore were cast perfectly.

But at last we are back to rain today, blek! lets roll week!!xo